The New EQ is HERE
24.06.17 11:24 Filed in:
Gear
After a helluva wait, the new EQ is in the rack. It's an amazing piece. Here's just a bit of a timeline…


INITIAL POST: (January 2017) This bad boy is a "mutt" of sorts based on electronics genius Igor Kapelevich's Sontec / Massenburg clone that inspired the DR-MQ5 design. This one's gonna be tweaked… Elma switches and Elma's matte black Classic collet knobs, mid-side capability, bad-ass op-amps & caps, +/-5dB in 0.5dB increments —
I love the mutts.
As a nod to Sontec, I think it will be dubbed the MES-351MS (if you know Sontec's naming scheme, you'll get it).
Wanna peek…? Faceplate and knobs mockup — I'm not sure when they (DIY-Racked folks) updated the faceplate, but this was actually a surprise. A lovely, stunning surprise. But the sexy black Elma knobs were my idea. ;-)

Good lord, I can't wait… I'll probably modify this post as things progress.
UPDATE (May, 2017) — It's been a long wait, but the wait is almost over — The builder sent me this lovely photo…

I friggin' love blue LED's…
UPDATE — GOOD LORD - IT's HERE!!!! Vape puff added for dramatic effect… Those LED's are like spotlights!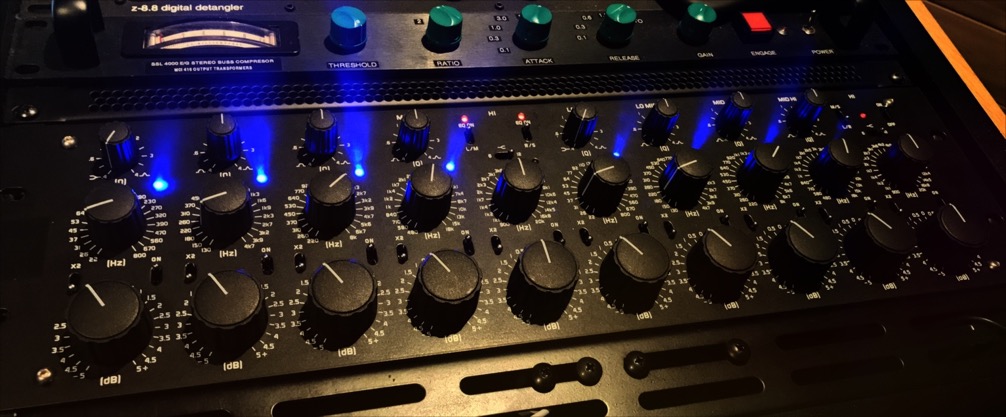 UPDATE (Late June, 2017) — It's amazing. I was expecting it to be good - I was anticipating "mastering grade" (for lack of a better term). I was *hoping* for "excellent" but what it delivered is mind-blowing. "Quiet" is an understatement - Fully engaged (except for one minor issue that's currently being handled) it's like it's not even there when the meters are reading even down below -100dBFS. Rough null tests (to check how accurate the two channels are in relation to each other) were impressive - Far better than what I expected.
Sonically speaking, it's just great. It's "sweet and musical" but it doesn't have that "Sontec Sweetness" (which I didn't really want anyway, or I'd still have my Sontec 250). It matches up better and I'd argue is "less intrusive" (lack of a better term again) than my Massenburgs (8200 & 9500) - and certainly much quieter, which is freakishly important to me.
What it *does* have in common with both mentioned units is that "is it actually doing anything?" quality — You make few half dB adjustments, match the other side and listen… And it doesn't sound "different" - almost like you didn't just make several adjustments. Then you toggle the "bypass" switches back and forth and hear exactly what you expected. Very transparent — Does the job without announcing itself.
Some day, I hope to have time to do a more in-depth "review" of sorts. But for the moment, it's certainly earned it's (stainless steel laser etched) badges…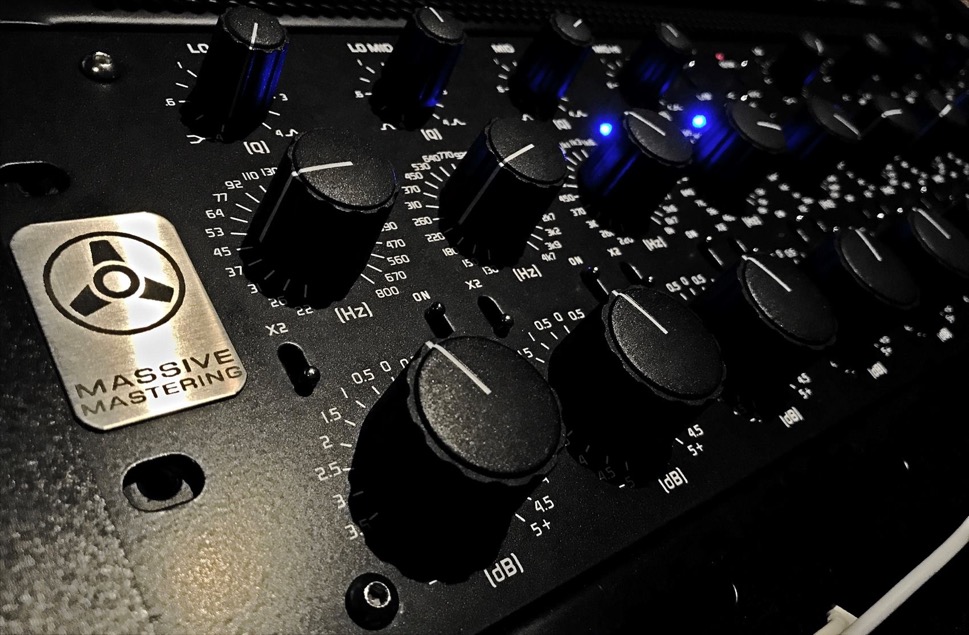 Oh yes — Very sexy. Other than *maybe* the old 9500, this might be the prettiest EQ I've ever had. That doesn't suck either. Till next update - Back to #CrankinOutTheHits…